Shirdi Tour Packages: Car,Taxi,Cab Booking Shirdi
In today's date Many peopel came shirdi to see Lord Sai Baba.Shirdi is a small town.In Shirdi tour, sai devotees must visit the Khandoba Temple, where Sai Baba first came in shirdi, then Guru Sthan, where Sai Samadhi Mandir. The most importent places are in shirdi is Guru Sthan,Dwarkamai,Chavadi and Lendi Gardens within Shirdi town.
Rent car shirdi : Sai Aaditya Tours and Travel provide tour packages in shirdi to Near Sightseeing Like as Nashik,Trimbkeshwar Joytirling Darshan.
Aurangabad Grushneshwar Joytirling, Ajanta & Ellora caves,Mini Taj Mahal.
Shirdi to Shani Shingnapur Tour.
We provide Best offers on Shirdi tours & travel packages at Rentcarshirdi. Every one can customized Shirdi packages & get exciting deals for Shirdi holiday packages.
How to Reach you shirdi?
1.Manmad Railway Station to Shirdi.Manmad To Shirdi Rent Car
2.Kopergaon Railway station to Shirdi.KoperGaon To Shirdi
3.Pune Airport to Shirdi.Pune -Shirdi -Pune
4.Mumbai Airport to Shirdi.Mumbai-Shirdi-Mumbai.
5.Nagrsol Railway Station to Shirdi. Nagrsol Shirdi

Rent car shirdi offer pickup and drop services from shirdi to your destination.
Shirdi Car Tour Packages

We offer Five Jyotirling Darshan In Maharashtra.
1.

Bhimashankar Joytirling

Darshan
Bhimashankar Temple is a Jyotirlinga located Pune, The Distance from Shirdi to Bhimashankar 400km up and down one day program.
2.

Trimbakeshwar Joytirling

Shiva Temple
Trimbakeshwar Jyotirlinga Hindu temple in the town of Trimbak, Nashik District of Maharashtra, India,
3.
Grishneshwar Joytirling

Temple

Grishneshwar Temple is 12 Jyotirlinga of Lord Shiva. The Grishneshwar Jyotirlinga is located at a village called Verul, Aurangabad , Maharashtra.
4.

Aundha

Navnath Joytirling
This Jyotirlinga located in Marathwada region. And the most importent feature of this temple is the vehicle of Lord Shiva 'Nandi Bail' is in the back of the temple instead of the front.
5. Parli Joytirling Vaidyanath : This Jyotirling located at near Nanded, in Maharashtra. The Aundha Nagnath Jyotirlinga and Vaidyanath Jyotirlinga cover one trip distnce between two temple is 100km.
WhatsApp
Shirdi to Ashtavinayak Ganpati Tour package
Ashtavinayaka means eight Ganeshas refers to a pilgrimage to the 8 Ganesha temples in Maharashtra state. Shirdi to Ashtavinayaka Darshan 4 days program.
Sadeteen Shakti Peetha Tour package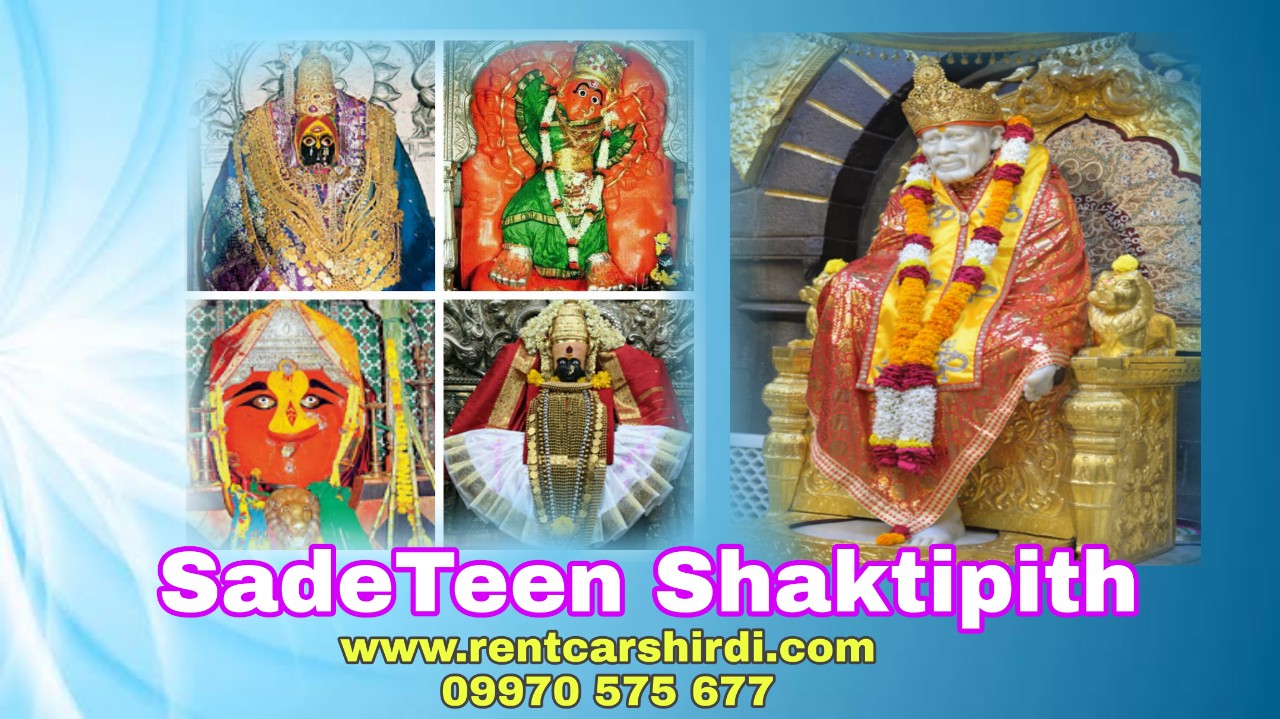 Mahalaxmi (Ambabai), Tuljapur chi Tuljabhavani, Mahur chi Renuka Devi, Vani chi Saptasrungi Mata ...
Please contact on this no.....
0 99 70 575 677